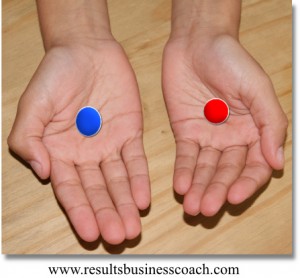 "Every choice you make has an end result" – Zig Ziglar
Neo (The Matrix) is given a choice.
A red pill or a blue pill.
Take the red pill and Neo will know the truth.
Take the blue pill and nothing will change. Life will continue in ignorance and quite desperation.
Deep inside Neo knows that he lives an average life that is controlled by the system.
Neo takes the red pill.
Instantly he is taken away from the system.
It is painful.
It turns his life upside down.
He struggles and questions the choice he made.
The system is so powerful that even after you leave the system the after effects still linger.
But at the end, it pays massive dividend.
Neo gets to understand his own power.
Here is a conversation between Neo and Morpheous:
Neo: What are you trying to tell me?

That I can dodge bullets?

Morpheus: No, Neo. I'm trying to tell you that when you're ready, you won't have to.
Here is an opportunity to take the RED PILL.
Join a world of high frequency people.
Join a world surrounded by people who inspire possibilities.
Come along and join Profit Hub.
+ Ravi Peal-Shankar
{ 0 comments }