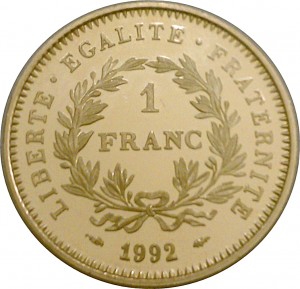 "All you have shall some day be given; Therefore give now, that the season of giving may be yours and not your inheritors." -Kahlil Gibran
This blind boy was very surprised.
 A passer by gave him a Franc.
In those days, a Franc was a substantial amount and the boy could not believe that someone gave him a Franc.
The blind boy immediately asked Professor Valentin Hauy (Professor of Calligraphy) whether he gave a Franc by mistake.
What surprised the professor was that blind boy could recognise the Franc by touch alone, within a matter of seconds.
This gave Professor Valentin Hauy the idea to invent a system of reading for the blind.
He started a school for blind children and created books with embossed letters.
One of Professor Valentin Hauy's students happens to be 10-year-old Louis Braille. Louis went blind following a childhood accident and wanted to improve Professor Hauy's system.
The rest is history.
Braille Lipi' or Braille Script is now accepted all over the world.
Braille is a tactile writing system used by the blind and the visually impaired.
It all started with Professor Hauy's giving.
Giving a substantial amount without expecting anything back.
Giving unconditionally is one way to attract the right opportunities and the right people.
In business if you choose to give something FREE to attract your ideal customers, make sure it is something people will pay good money to get.
The consequence of such giving will transform your business and life.
{ 0 comments }